Cycling The Netherlands
Cycling in Holland, riding on the dike along meadows, rivers and windmills. Cycling along the shore of a lake to the next old fishing village. Eating a herring at a stall. Leaving your hotel early in the morning, the low mist is hanging above the fields, only the heads of the cows are visible. You take the ferry to the other side of the river, small talk about the weather with the ferryman. After a day of cycling you're welcomed by the hotel owner, a glass of old jenever and the days tales are being told.
LowlandsCycling helps people from abroad to cycle in their own way, and at their own speed and style through the Netherlands and beyond. We organize the bicycles, gear, itineraries, accomodation and more.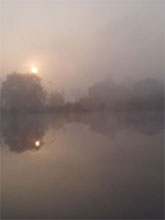 early morning mist